Inleiding
From Mondothèque
Dit irradiërende boek[1] begon drie jaar geleden met een nieuwsbrief van het Mundaneum archiefcentrum in Bergen. In de e-mail werd aangekondigd dat de toenmalige eerste minister van België Elio di Rupo op het punt stond een samenwerkingsovereenkomst tussen het archiefcentrum en Google te ondertekenen. De nieuwsbrief haalde een artikel uit de Franse krant Le Monde aan waarin het Mundaneum werd voorgesteld als 'Google op papier'[2]. Het was onze eerste kennismaking met vele variaties op hetzelfde thema.
Google had zojuist de bouw van een tweede datacentrum in de omgeving van Bergen gestart. De aanwezigheid van de internetgigant in de regio was het resultaat van jarenlange onderhandelingen door dezelfde Di Rupo[3]. Het Mundaneum archiefcentrum kwam door de re-branding van Paul Otlet als voorvader van het internet in de internationale belangstelling te staan. Lokale politici die de voormalige mijnstreek rond Bergen wilden transformeren van zware industrie naar een plek waar internettechnologie thuishoort, maakten van die hernieuwde aandacht handig gebruik. Google, dankbaar om haar postume Franstalige roots te ontdekken, stuurde hoofdevangelist Vint Cerf naar het Mundaneum. Ondertussen stond het archiefcentrum toe om honderden door henzelf gedigitaliseerde documenten op de website van Google Cultural Institute te publiceren.
Er is misschien een sterke visuele gelijkenis tussen rijen ladenkasten met indexkaarten en servers opgesteld in een datacenter, maar ze zijn zeker niet hetzelfde. Ook het universalistische kennisproject van Paul Otlet en Henri Lafontaine en de winstgerichte missie van Alphabet Inc[4] lijken op het eerste gezicht op elkaar, maar verschillen op belangrijke punten.
Een internationale groep kunstenaars, archivarissen en activisten begon de vele lagen van de knoop te ontwarren. De manipulatieve vereenvoudiging 'Google op papier' fungeerde daarbij als een provocatie. Het deed aan andere gevallen in andere plaatsen denken, waar geografisch gesitueerde geschiedenissen worden omgezet in reclameslogans, en culturele infrastructuur in de handen van multinationals terechtkomt. Sommige Mondothekers wilden de misrepresentatie van het oeuvre van Otlet zélf recht te zetten, anderen voelden de behoefte om aandacht te vragen voor de Brusselse roots van het project, om het onzichtbare werk van zorg en onderhoud weer een plek te geven in dit verhaal van bebaarde voorvaders, of deden mee uit bezorgdheid over de toekomst van culturele instellingen in digitale tijden.
We installeerden een Semantic MediaWiki en noemde het naar de Mondotheek, een denkbeeldig apparaat dat Paul Otlet bedacht in 1934. De Wiki fungeerde als online opslagplaats en referentiekader voor de bijeenkomsten, bezoeken en presentaties die we samen organiseerden. http://mondotheque.be groeide uit tot een labyrint van afbeeldingen, teksten, kaarten, semantische verbanden; van gereedschappen, onverwachte verbanden en een uitdijende woordenschat. Het liet ons toe het weerbarstige ontrafelproces openbaar te maken, waarbij politieke urgentie en poëtische experimenten zich met elkaar konden mengen.
MediaWiki is een vrije software-infrastructuur ontwikkeld in de context van Wikipedia. We breidden die omvangrijke constellatie uit met Semantische extensies omdat het Semantische Web op een bepaalde manier lijkt op Otlet's Universeel Decimaal Classificatie-systeem[5]. Die combinatie maakt heel veel mogelijk maar is ook vooringenomen over het soort relaties dat gelegd zou moeten worden en welke praktijk wenselijk is. Op heel wat momenten werden we dan ook meegezogen in beloftes van universele volledigheid, eindeloze categorisatie en duizelingwekkende schaalvermenging.
Voor Otlet was de Mondotheek een ​​'intellectuele machine': op hetzelfde moment archief, linkgenerator, kantoor, catalogus en zender. Voor hem vormde het museum, de bibliotheek, de encyclopedie en de taal van classificatie een complex en onderling afhankelijke web van relaties, waar elk element een mogelijke ingang vormde voor een ander element. Hij benadrukte dat de intellectuele en sociale processen die een presentatie in een museum op gang brengt verschillen van het lezen van een boek in een bibliotheek, maar dat het éne in zekere zin zou kunnen leiden tot het andere[6]. Otlet stelde zich voor dat de Mondotheek het mogelijk zou maken te communiceren op verschillende niveaus, om diverse perspectieven via uiteenlopende media op het kruispunt van verschillende praktijken met elkaar te verbinden. Door die droom naar de toekomst te transponeren werd de Mondotheek voor ons een soort denkmachine. Een plek om de historische en sociale locaties van het Mundaneum-project te kunnen analyseren, een platform om de persistente interventies met elkaar in verband te brengen. Het speculatieve karakter van Mondotheek stelde ons in staat om de gesitueerde machtsformaties rond het project te beginnen te begrijpen en mogelijke vormen van verzet te ontwikkelen.[7]
Dit irradiërend boek ontstond omdat we een incisie wilden maken in een onderzoek dat steeds verder begon uit te dijen. Het boek is een momentopname dat uitnodigt een blik te werpen op de verknoopte perspectieven, zonder de noodzaak om een ​​sluitend verhaal te vertellen. Als saluut aan Otlet's eindeloos uitbreidende irradiërend bibliotheek besloten we de MediaWiki-installatie z­élf te gebruiken om de publicatie te schrijven, te redigeren en het genereren. Het verklaart waarom op de pagina's van dit boek een paar welkome afwijkingen te vinden zijn.
De vier hoofdstukken die we hier voorstellen vermengen ieder feit en fictie, tekst en beeld, document en catalogus. We verbinden proces en inhoud met elkaar om te kunnen ingaan op de specifieke materiele verwikkelingen die we tegenkwamen. Mondotheek, en in het verlengde ervan dit irradiërend boek, is een meervoudig, langdurig en meer-schalig avontuur. Op zijn eigen manier vormt het een speels commentaar op de allesomvattende ambitie waar het 19e eeuwse Utopia van het Mundaneum voor stond.
Embedded Hierarchies gaat over classificatiesystemen en de manier waarop de droom van hun universele toepassing in de praktijk functioneert. Het brengt bijdragen bijeen die gaan over kennisinfrastructuur op verschillende niveaus: van ongehoorzame bibliotheken, inventieve institutionele praktijken rond het digitale archief en meta-data structuren tot aan de obsessie om te indexeren als een pathologische aandoening.
Disambiguation ontrafelt verschillende analogieën die rond het erfgoed van Paul Otlet cirkelen. We bekijken ogenschijnlijk vergelijkbare biografieën, begrippen en woorden van dichtbij en verschuiven de ambiguïteit naar andere plekken.
Location, location, location gaat in op het werk van geo-politieke krachten. We volgen het rondtrekkende archief van het Mundaneum door de hoofdstad van Europa, en stuiten op lokale, nationale en mondiale utopieën die op hun beurt hun stempel drukken op de loop van de geschiedenis. Dit hoofdstuk traceert tekens in het fysieke landschap, patronen die het hyperlokale met het globale verbinden.
Cross-readings bestaat uit lijsten, beeldverzamelingen en andere materialen die verband leggen ​​tussen historische en hedendaagse lezingen van het Mundaneum. Ze halen daarbij mogelijk spirituele of mystieke onderbouwing van het Mundaneum naar boven en laten transversale relaties zien tussen dezelfde elementen op verschillende locaties.
Een bescheiden operatie als Mondotheek laat zien hoe we samen de moed kunnen vinden om toegang te eisen tot zowel de digitale bestanden zélf als tot de intellectuele en technologische infrastructuur waarmee ze worden gemediëerd. De situatie is urgent nu de erosie van openbare instellingen duidelijk wordt, en alle vormen van communicatie uiteindelijk worden opgeslokt door neo-liberale agenda's. We moeten proberen simplificering te weerstaan ​​en het geduld vinden om een ​​relatie aan te gaan met verhalen als het Mundaneum op een manier die zin heeft. We moeten verder gaan dan het alomtegenwoordige techno-deterministische paradigma van kennisproductie en daarvoor is verbeelding onmisbaar.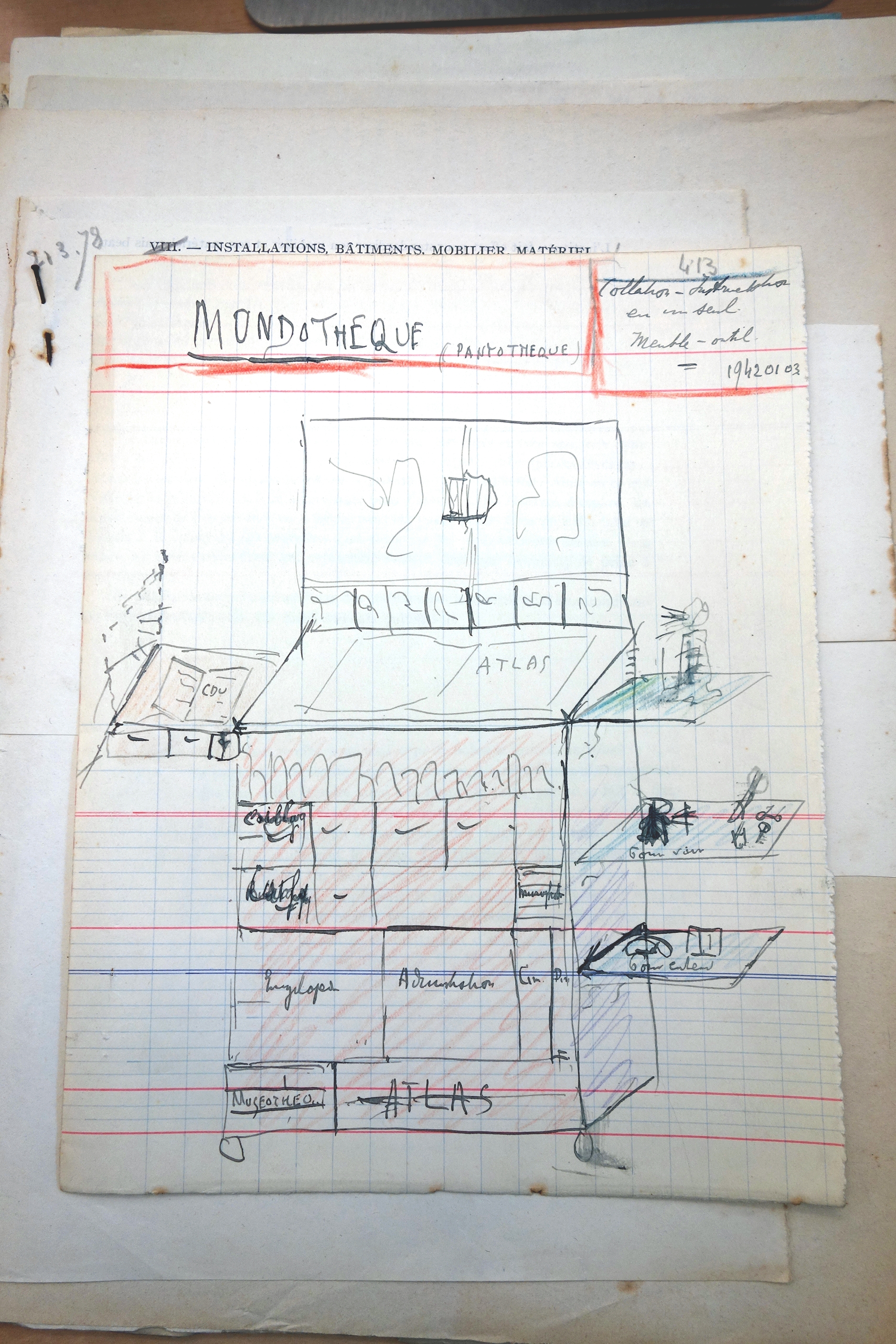 Last Revision: 2·08·2016