Not dissimilar
From Mondothèque


Tracing back the posthumous invention of the internet
2015
2014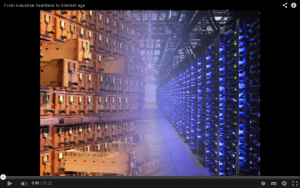 The idea of the internet was born in Belgium. Idea No.1: The Mundaneum [1]
L'homme qui a presque inventé le cyberespace : Paul Otlet [2] Le père (belge) de l'idée du web [3]
2013
The unsung heroes of the Internet [4]
2012
2011
Our view is that the creative ways in which he [Paul Otlet] faces tensions of scalability, representation, and perception of relationships between knowledge objects might be of interest today.[5]
2010
He also wrote extensively about the need for a universal network for the communication of knowledge. His theoretical approach to the organi-zation and dissemination of information was far ahead of its time, notably in foreshadowing the Internet, Hypertext, and the World Wide Web.[6]
2009
2008
Building Society, Constructing Knowledge, Weaving the Web: Otlet's Visualizations of a Global Information Society and His Concept of a Universal Civilization[7]
Paul Otlet's visionary Mundaneum was a proto-internet made of 3-by-5-inch index cards [8]
2007
2006
2005
2003
Otlet imagined a day when users would access the database from great distances by means of an "electric telescope" connected through a telephone line, retrieving a facsimile image to be projected remotely on a flat screen. In Otlet's time, this notion of networked documents was still so novel that no one had a word to describe these relationships, until he invented one: "links." Otlet envisioned the whole endeavor as a great "réseau"—web—of human knowledge.
[9]
What links here