Le corbusier pyramide perspective.png
From Mondothèque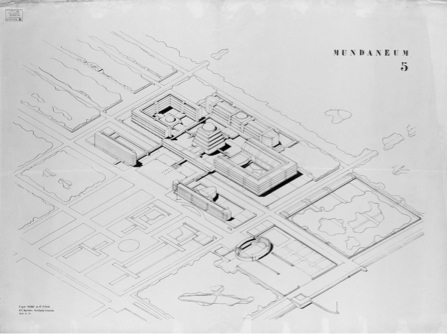 No higher resolution available.
Architectural vision of the Mundaneum by M.C. Heymans
1935
Wouter Van Acker, 'Opening the Shrine of the Mundaneum The Positivist Spirit in the Architecture of Le Corbusier and his Belgian "Idolators,"' in Proceedings of the Society of Architectural Historians, Australia and New Zealand: 30, Open, edited by Alexandra Brown and Andrew Leach (Gold Coast,Qld: SAHANZ, 2013), vol. 2, p. 803.
File history
Click on a date/time to view the file as it appeared at that time.
You cannot overwrite this file.
File usage
The following page links to this file:
Author
M.C. Heymans +
Caption
Architectural vision of the Mundaneum by M.C. Heymans +
Source
Wouter Van Acker, 'Opening the Shrine of t

…

Wouter Van Acker, 'Opening the Shrine of the Mundaneum The Positivist Spirit in the Architecture of Le Corbusier and his Belgian "Idolators,"' in Proceedings of the Society of Architectural Historians, Australia and New Zealand: 30, Open, edited by Alexandra Brown and Andrew Leach (Gold Coast,Qld: SAHANZ, 2013), vol. 2, p. 803.

Coast,Qld: SAHANZ, 2013), vol. 2, p. 803. +
Date
1935 +