Celebration 1000.jpg
From Mondothèque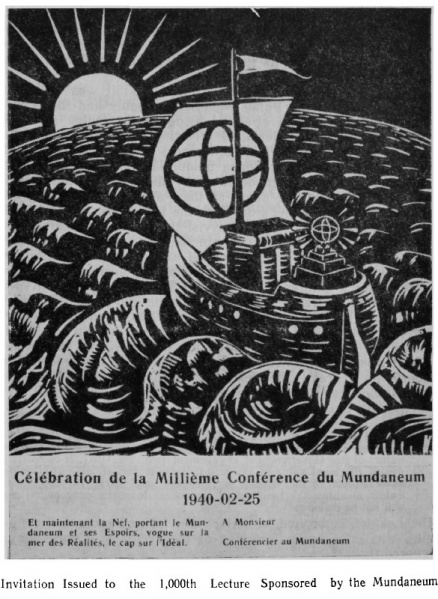 Original file
‎
(585 × 800 pixels, file size: 221 KB, MIME type:

image/jpeg

)
1940
The ship wherein Theseus and the youth of Athens returned had thirty oars, and was preserved by the Athenians down even to the time of Demetrius Phalereus, for they took away the old planks as they decayed, putting in new and stronger timber in their place, insomuch that this ship became a standing example among the philosophers, for the logical question of things that grow; one side holding that the ship remained the same, and the other contending that it was not the same.
Rayward, Warden Boyd, The Universe of Information: the Work of Paul Otlet for Documentation and international Organization, FID Publication 520, Moscow, International Federation for Documentation by the All-Union Institute for Scientific and Technical Information (Viniti), 1975. (p. 352)
File history
Click on a date/time to view the file as it appeared at that time.
You cannot overwrite this file.
File usage
The following 2 pages link to this file:
Caption
The ship wherein Theseus and the youth o

…

The ship wherein Theseus and the youth of Athens returned had thirty oars, and was preserved by the Athenians down even to the time of Demetrius Phalereus, for they took away the old planks as they decayed, putting in new and stronger timber in their place, insomuch that this ship became a standing example among the philosophers, for the logical question of things that grow; one side holding that the ship remained the same, and the other contending that it was not the same.

her contending that it was not the same. +
Source
Rayward, Warden Boyd, The Universe of Info

…

Rayward, Warden Boyd, The Universe of Information: the Work of Paul Otlet for Documentation and international Organization, FID Publication 520, Moscow, International Federation for Documentation by the All-Union Institute for Scientific and Technical Information (Viniti), 1975. (p. 352)

nical Information (Viniti), 1975. (p. 352) +
Date
1940 +