Titre
From Mondothèque

0 Page de titre
LE LIVRE SUR LE LIVRE
231.18 Les titres et les notices bibliographiques
La description bibliographique du titre a donné lieu à ces questions : Droit de l'abréger — ou de le modifier pour le rectifier — ou de le développer pour l'expliquer dans les catalogues. (Discussion à la Société royale de Londres.)
File:Changer le titre.jpg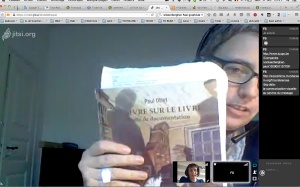 Faux titre
TRAITÉ
DE
DOCUMENTATION
---
LE LIVRE SUR LE LIVRE
---
THÉORIE ET PRATIQUE
PAR
PAUL OTLET
Les Livres et les Documents. — La Lecture, la Consultation et la Documentation. — Rédaction, Multiplication, Description, Classement, Conservation, Utilisation des documents. — Édition et Librairie, Bibliographie, Bibliothèque, Encyclopédie, Archives, Muséographie documentaire, Documentation administrative. — Organismes, organisation, coopération. — Office et Institut International de Bibliographie et de Documentation. — Réseau Universel d'Information et de Documentation.
[002 (02)]
EDITIONES MUNDANEUM
PALAIS MONDIAL
BRUXELLES
1934
Pages in category "Titre"
The following 3 pages are in this category, out of 3 total.
Media in category "Titre"
This category contains only the following file.