Génétique
From Mondothèque

Un certain nombre de documents, issus des papiers personnels d'Otlet, témoignent du processus d'écriture du Traité. Un premier travail d'identification des documents relatifs à la genèse/génétique du livre, a révélé qu'il s'agissait plus de documents résultants d'une opération de
classement
et d'organisation des contenus que de leur rédaction à proprement dite. Il est à supposer qu'Otlet écrivait sur des cartes ses idées qu'il indexait et classait ensuite.
251.26 Comment on écrit.
251.322 Les notes
L'élément matériel premier de tout travail intellectuel est la note. Les savants en dépouillant un ouvrage prennent parfois autant de notes que de pages. Observer le principe monographique. Un élément, une fiche ; une fiche, un élément. On peut employer plusieurs fiches si la place manque sur une seule. Il est préférable de n'écrire que sur un côté de la fiche, en vue du découpage et du collage ultérieur. Mais des exceptions sont possibles.Dans l'élaboration de la pensée et de l'écrit, les notes sont à la fois des jalons et des représentants de réalités existantes. Impossible de les négliger : elles s'affirment être et force est bien d'en tenir compte. Aussi le répertoire est comparable à une « machine à penser ».
411.5 Des divers principes.
Sont à mettre en œuvre les principes : 1° unité ; 2° universalité ; 3° expansibilité ; 4° rationalisation, normalisation, standardisation ; 5° coopération ; 6° publicité ; 7° Sériation des efforts.
File:Archives Mundaneum - Fundamenta.jpg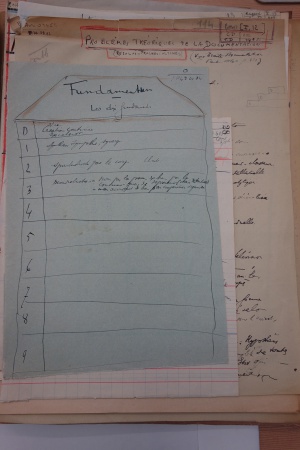 de plus en plus de résultats...
Pages in category "Génétique"
The following 4 pages are in this category, out of 4 total.
Media in category "Génétique"
The following 16 files are in this category, out of 16 total.